October is in full swing now, and the one celebration that takes places this month is Halloween. Full of costumes, decorations and fun, Halloween is also a time for sweet treats. However, studies have shown that children are consuming their body weight in sugar every year. Now that is something to be scared about!
So here at Active Superstars, we have come up with a few recipes and ideas for healthier snacks this Halloween. Still just as tasty, and children can get involved and make these treats with help from an adult.
Frozen Banana Ghosts
Cut a banana lengthwise and place a lollypop stick in between. Pop in the freezer for just under an hour.
Once chilled, remove from freezer and decorate. You can add chocolate chips for eyes, and you can coat melted low fat white chocolate as a coating or yoghurt to the banana if you wish.
Pop into the freezer for another hour, remove and enjoy your creation!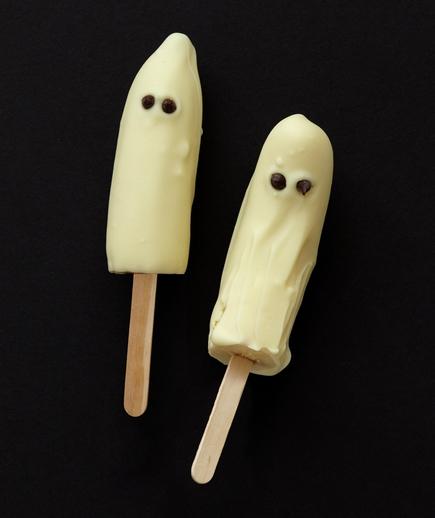 Pumpkin Oranges
The easiest treat of all. Get the children to pick an orange, unpeeled, and with a black marker draw on a scary face. Add teeth and scary eyes. Poke a stalk of celery in the top to give it that ultimate pumpkin look. You can even set up a competition for the scariest orange monster! When ready to consume, just peel the skin and eat as normal.
Apple Creatures
This creation can be used with apples or pears.
Cut part of the apple out to make an indent that will act as a mouth
Decorate your monster however you wish. You could add marshmallows for eyes, half a strawberry as a tongue, raisins as teeth and you can make a whole bunch of them!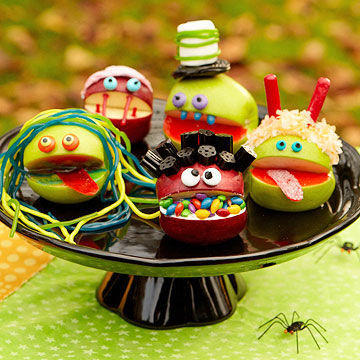 Roasted Pumpkin Seeds
Preheat oven to 350 degrees.
Cut open and spoon out the insides of the pumpkin. Separate the seeds from the pulp
Rinse the seeds well
Place on a baking tray and drizzle a little bit of olive oil and a sprinkle of salt over them
Place in oven for 20 mins, removing and stirring half way through
Place on paper towel to remove excess oil
Eat your snack whilst carving your pumpkin and watching it come to life!
Monster Shaped Dippers
Preheat oven to 350 degrees
With Halloween shaped cookie cutters or with scissors, cut out your scary shapes from the tortillas.
Place shapes onto baking sheets and spray with cooking spray
Bake for 8 minutes or until golden and allow to cool
Enjoy your scary friends with dips of your choice
As well as providing healthy snacks, encouraging children to keep fit is also an important factor in their well-being. Why not enroll on one of Active Superstarss Holiday Courses or Academy Course to keep your child active and inspired?
For further details call Active Superstars today on 0121 222 5464 or email info@activesuperstars.co.uk