The most important skills that children everywhere must learn in order to live happy, productive, moral lives are skills that are learned and practised by children in play.
These include the abilities to think creatively, to get along with other people and cooperate effectively, and to control their own impulses and emotions
Even more important than creativity is the capacity to get along with other people, to care about them and to co-operate effectively with them.
Each player must recognise the capacities and desires of the others, so as not to hurt or offend them in ways that will lead them to quit. Whilst working in a team in sport is important, it is sometimes important for them to learn to let go and do it on their own.
What Are the Benefits of My Child Becoming More Independent?
They become good decision makers because they were allowed to consider various options and, with the support and guidance of their parents, make their own decisions.
Intrinsically motivated because they are allowed to find their own reasons to achieve.
Collaborative rather than a controlled relationship with their parents in which the children's ideas and wishes are solicited and considered.
You gave your children the freedom to experience life fully and learn its many important lessons.
If your children are independent, you have provided them with the belief that they are competent and capable of taking care of themselves.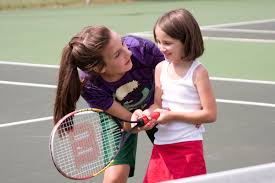 How Can I Help to Increase My Child's Independence?
Praise your child for doing things on their own. If they do something wrong, acknowledge that they tried
Make time for children to learn how to do things. It might take a little longer for them to do things themselves, so allow extra time for this without rushing them. It could simply be waking up an extra 10 minutes earlier for them to brush their own hair
Identify opportunities for tasks that children can do themselves, such as brushing their own teeth. Asking them which duties they feel able to take on themselves will increase their willingness to try.
Give them space. Its natural for your child to want a safety zone, and the start of getting them more independent is to let them know that that is okay. Don't push your child to do something if they don't feel capable, instead give them space to get used to the idea of something new, which will give them confidence to give it a try.
Praise a conscience. Children will begin to learn the difference between right and wrong, when they get it right it should be praised to encourage them to carry on.
---
Active Superstars offer high quality sports activities to keep children active, and encouraging them to work in teams as well as increasing independence. For more information call Active Superstars today on 0121 222 5464 or email info@activesuperstars.co.uk